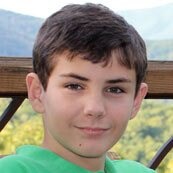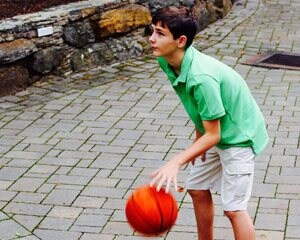 Braeden (Brady) Bakken is a graduate of Pearson Online Academy. From his home in Boone, North Carolina, Braeden was able to successfully work at a pace that suited him while being in remission. Learn more about Braeden's experience with attending Pearson Online Academy.
In 2011, Braeden was diagnosed with stage 4 cancer – Burkitt's Lymphoma. He underwent nine months of aggressive chemotherapy, leaving him with a compromised immune system. The Bakken family then began searching for an alternative education option that would provide a flexible schedule and germ-free environment for all of their children. Tiffany Bakken, Braden's mother, said, "It wouldn't make sense for the family to send his older and younger siblings to public school, as they would still come home with the germs we were trying to avoid for Braeden."
Braeden often struggled with distractions and minimal attention at his local bricks-and-mortar school. At Pearson Online Academy, Braeden and his siblings, Marshall and Peyton, received much more individualized and effective attention from their teachers. "In the traditional public school, the focus was not on individual progress, so it limited Brady's development. We were very happy with the rapport Brady achieved with his teachers. He had contact with them daily, and participated more in class than he did in his public school," said Tiffany. His favorite subjects were math and English.
In his free time, Braeden loved to play basketball and football with his friends and family. He enjoyed all sports, especially Nascar and the NFL, and often went to sporting events with his local friends. He also liked to communicate with his friends from out of town via Skype, e-mail, and text.
After graduation, Braeden had plans to attend college and earn a degree in engineering. He always enjoyed building things and aspired to one day be an engineer for an auto manufacturer or Nascar.
I loved Pearson Online Academy because I could take time on subjects if I needed more time, plus I had the flexibility to spend time with family and friends. My favorite thing was the teachers, plus we could go to Disney World when it wasn't crowded.
— Braeden