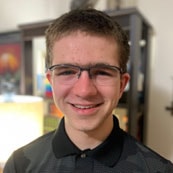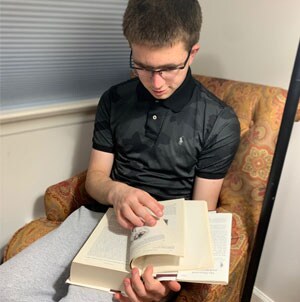 Jackson is a high school student at Pearson Online Academy. He enjoys the flexibility that online school offers, which allows him to complete his schoolwork on his own schedule. This gives him more time for his hobbies, including writing and listening to podcasts. Jackson shares his story below:
Why I Chose Pearson Online Academy
My aunt introduced me to Pearson Online Academy. My mother and I did some research, and realized it offered everything we were looking for in a school.
I like the LiveLesson® sessions the most. Other online schools I've attended didn't offer frequent live virtual classes. I really like my teachers and have a good relationship with them. I like being able to give input during LiveLesson sessions. In addition to the live class sessions, the school encourages social interactions between students. I take part in the Community of Writers program. Pearson Online Academy offers many opportunities to get involved in clubs and programs, where you can interact with other students and make friends.
My Online High School Experience
What I like most about Pearson Online Academy is the autonomy it allows the student; I'm not stuck in a rigid, hour-per-subject schedule. I can work on what I want to work on when I want to work on it. If I have schoolwork I need to do, I'll plan my schedule around that, and do extracurricular activities at a different time.
I enjoy reading, writing, listening to podcasts, and walking. I can easily fit everything I want to do into my schedule. I like being able to take walks in the morning. The flexible schedule allows me to do that and still get everything done for school.
About Me
My favorite subjects are English and history. I read a lot, and I hope to become a writer one day. I like history because there are so many fascinating stories and figures that we learn about. History can be viewed from many different angles, and there are so many different periods to learn about.
I'm not sure what career I will go into, but I am certain it will involve writing. I'm most interested in working in academics, either researching or teaching history. I enjoy learning about classical civilizations, like ancient Greece or Rome. Or I could become a writer for a newspaper.
Pearson Online Academy has helped me prepare for my future by teaching me to be disciplined and work within limits, such as deadlines, paragraph lengths, and time constraints. These are skills that will be essential in whichever career path I choose.
What I like most about Pearson Online Academy is the autonomy it allows the student; I'm not stuck in a rigid, hour-per-subject schedule.
— Jackson