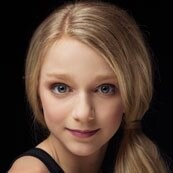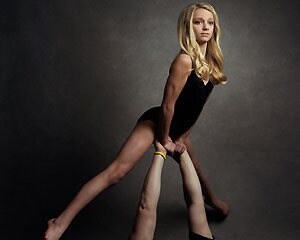 Kate is a middle school student at Pearson Online Academy. In many ways, Kate is like most girls her age: She likes panda bears, playing sports, and everything that sparkles. But in one significant way, Kate is truly unique. This world-class figure skater skated into the history books when, at the 2015 United States Figure Skating National Championships, she became the event's youngest novice champion. Kate and partner Eric Hartley took the gold medal in the Novice Pairs category—in just their first year skating together. Kate's older brother Chase, a Pearson Online Academy middle schooler, is also an elite skater, one who took home the silver medal in the Juvenile Boys event—despite battling food poisoning the night before.
Kate started skating at a young age. At that time, she was enrolled in her local school. Her mom, Stacey, reports that for a time, Kate and her family were able to juggle skating and schoolwork. However, as Kate's skating career started to take off, she needed to spend more time on the ice in lengthy daily practice and training sessions. Frequent travel for national and international competitions started taking its toll— never mind Colorado training sessions with her pairs coaches and partner. So Kate started missing lots of school because sitting in a traditional classroom for six hours a day just wasn't feasible for her. Nor was this schedule tenable for her family, including her work-from-home mom and four siblings.
So, in 2014, Stacey enrolled Kate and her brother Chase in Pearson Online Academy. Online learning's flexibility means that Kate and Chase can juggle schoolwork and their rigorous training and competition schedules. So there's no more stressing out about making up missed classes or assignments, and the pair can do their schoolwork from just about anywhere, 24/7. But just as important, Kate and her brother benefit from Pearson Online Academy's blue-chip Connections Academy curriculum and certified teachers. "Pearson Online Academy's high-quality curriculum, wide choice of courses, and terrific teachers means our family doesn't have to choose between letting Kate and Chase pursue their skating dreams and ensuring that they get a top-notch education," Stacey comments.
Kate's mom, Stacey, credits her daughter's native talent, hard work, and dedication for her success, but she says that Pearson Online Academy is the "fuel" that keeps this family's engine running.
The sky's the limit for this skating dynamo. And whether Kate's future includes more world championship or even Olympic titles is a chapter in her life yet to be written. But one thing is for sure: This Pearson Online Academy student will continue to soar and serve as a role model for other youngsters seeking to balance academics and athletic dreams.
Pearson Online Academy has been an amazing opportunity for me because it is allowing me to follow my dreams while getting a great education.
— Kate