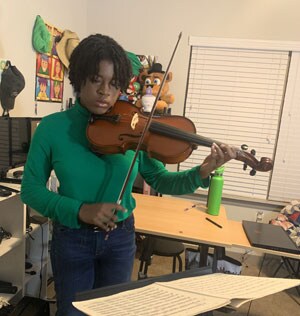 When Trinity's previous high school curriculum wasn't academically challenging enough and didn't push her to improve beyond her capabilities, her family made the decision to enroll her in Pearson Online Academy.
Why I Chose Pearson Online Academy
My previous school didn't keep me engaged. This program challenges me, so I feel invested every step of the way.
About Me
My favorite subjects are Japanese and English. I've always wanted to learn a foreign language—and I love exploring different cultures of the world. I also enjoy writing and creating new worlds and characters.
I spend my spare time playing the viola and playing video games. I balance the two by completing all my schoolwork first, practicing my instrument second, and then playing video games when everything else is completed.
My Online High School Experience
The classes are difficult, but the teachers provide thorough explanations, so I don't feel frustrated if I don't understand new concepts. My teachers are kind and patient. They answer any questions that I have and are very encouraging.
My favorite experience at school so far has been my first Art Club meeting. It was inspiring and amazing to see everyone's great artwork!
After graduation, I plan to become a professional musician and play in an orchestra. Pearson Online Academy is preparing me by teaching me time management and organizational skills.
Pearson Online Academy has a caring staff, plenty of options for classes and clubs, and a very welcoming atmosphere.
— Trinity