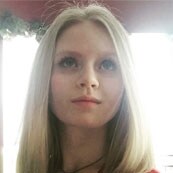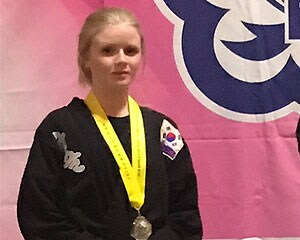 McKenna Godwin-Butler is a high school student at Pearson Online Academy. As a professional martial artist, the flexibility in scheduling that Pearson Online Academy provides has allowed McKenna to receive a high-quality education while pursuing her athletic passions. She shares her story below:
"Kuk Sool Won martial arts has become a long-lasting passion of mine. Over the years, I have become a professional martial artist. I work at a studio five nights a week teaching children and adults how to defend themselves and get out of a confrontational situation. It makes me feel good to be able to help them in emotional instances and grow their self-esteem to the point where they aren't afraid. The wonderful aspects of Pearson Online Academy allow me to work at my own pace and give me the freedom to manage schoolwork while being a professional martial artist.
My favorite subjects are English and history/government. I have always had a love for books and literature, which allows you to escape the pressures of life. My mother is a historian, and I have gained a passion for history because of the conversations we have and the many places we have visited. My father is retired military but still works for the army. I've grown up listening to conversations about actions in the government and being a part of that world.
I have a respectful relationship with my teachers at Pearson Online Academy. I go to them when I need help, and they're always there for me when I need them. It's like having a friend you can count on, and the way they teach me is in an understanding tone, which helps me learn better.
My main goal at this time is to attend a college that will help me in my future career choices. Pearson Online Academy has helped prepare me by supplying me with important information and knowledge from extremely helpful teachers and staff."
Outside of school and work, McKenna maintains an active social life. She says, "As a military child, you grow up in a community of people who have all experienced the same things in life! Although you may move from time to time and lose touch, there are always military bases you can go to meet people or go to see movies, swimming, horseback riding, and more. Also, in the studio, I teach teenagers who come in to learn martial arts, and I become friends with them. A great way I try and stay in touch with my friends is through Skype and FaceTime."
What I enjoy most about Pearson Online Academy is that it gives students the independence to learn on their own using the knowledge they gain from the coursework and teachers.
— McKenna