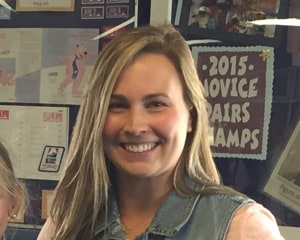 Ms. Valentine is a middle school advisory teacher at Pearson Online Academy. She started her teaching career when she joined Pearson Online Academy in 2007. Ms. Valentine holds a bachelor's degree in history from the University of Cincinnati and a master's degree in middle school education from Xavier University.
When asked about why she chose to become a teacher, she said the following:
"From the time I was little, I was propping my baby dolls up at the little school desk in front of the chalkboard that we had in our basement. I have always wanted to be a teacher and would ask my teachers for extra books or worksheets so I could go home and teach my brother and sister, as well as my dolls. Wanting everyone to reach their fullest potential has always come naturally to me.
The benefit of teaching at an online school like Pearson Online Academy is that we teachers can individualize each student's instruction. Not all students fit into the same mold. As a teacher at Pearson Online Academy, I relish the opportunity to help those students outside of the common mold so they can find their passion and their place in education."
In Ms. Valentine's spare time, she loves going on adventures with her husband, including skydiving, white-water rafting, skiing, and traveling. She also enjoys bike riding, swimming, and visiting the Cincinnati Children's Museum and the Cincinnati Zoo, reading, and running.
My favorite part about teaching at Pearson Online Academy is 'meeting' students and families from all over the world. Learning about different cultures, customs, and languages has influenced the way I teach.
— Ms. Valentine